Bloggy stuff

About
Other

Summits on the air
Adventures in ham radio



My Sota Philosophy: Despite what the rules say, I will not activate a summit unless I hike it. I must:
Be on the true summit or within a reasonable distance of it. I figure 20 vertical ft is reasonable for just about any summit. The only case I can think of around here is MAYBE broken top where the last 50' is a technical climb. But then, CM-003 is a REAL technical climb that I will likely never complete.
Must not drive to the summit. If the summit is driveable, I must hike the summit through some route other than the road. (Good example is CE-009, where there is a trailhead in the caldera that hikes up 5 miles to the viewpoint. A road follows a seperate route there). Driving is cheating and violates the spirit of SOTA.
Should be QRP, 5-10W maximum.
June 21st, 2020: Stams Mtn, W7O/CE-055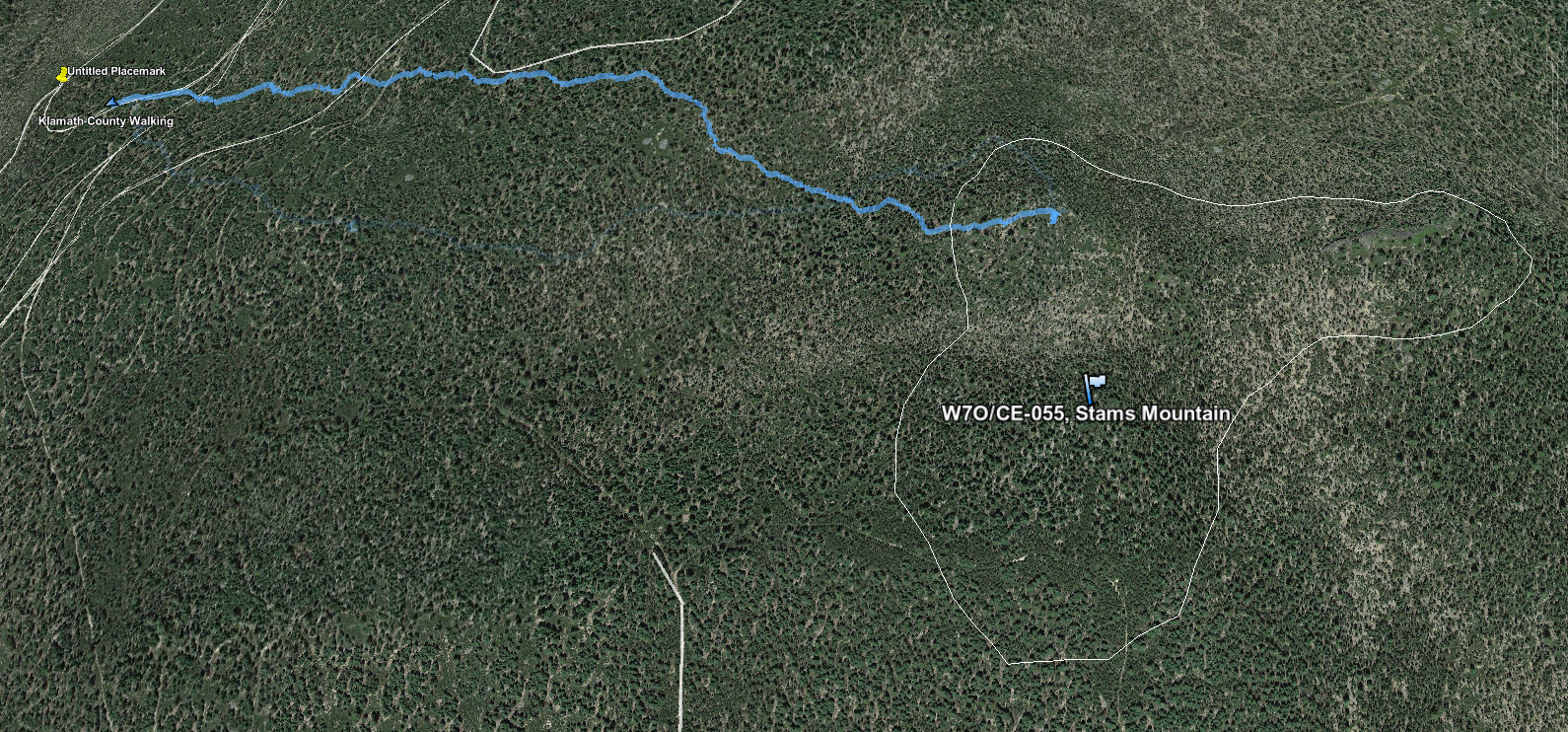 6/21/2020: W7O/CE-055 Stams Mtn

My first unactivated summit, 2nd overa... I have to say, this was a fun hike, it's really my style. It is truly a bushwhack hike, there is no trail, and you will not be afforded a road or any kind of guide. A GPS waypoint of the peak is absolutely necessary, and even that won't help you at points from getting into trouble with really dense, thick undergrowth. Be prepared to climb over and through stands of pine trees, manzanita, and deadfall. This area is littered with old logging roads, which have given rise to dense thick stands of 1" pine trees 6 inches apart. The path you will likely take crosses these roads, and you will have to get through the stands.

Stams Mountain is a kind of 6-pt hill on the northern edge of the Freemont-Winema national forest. Approx 1hr 15min drive from Bend, use Deschutes MVUM #9 and Freemont-Winema MVUM #2 with Avenza maps to get to the 'trailhead'. There is one road that goes right by the base of the mountain, forest road 2415. Driving from highway 97, take Hwy 31 east for 15 miles. At the 15 mile marker point, you will see a turn-off from the road for 2415 across from a USFS fire warning sign. Take this road south for some 8 miles of washbordy gravel road. The worst washboards are past the logging camp. The turnoff is at 43°22'17.03"N 121°27'4.06"W. At this point, you have a decision to make. Do you value your vehicle? Do you have high ground clearance? Are you a tree hugger? You can park at this junction, or continue up the road maybe a quarter mile until you run into trees that are too big to drive over. But to even get to that point, you'll be scraping paint and killing saplings. Park and go hiking. Take your GPS and just straight line navigate to the summit.



Stams Mtn Summit view



As stated earlier, you make your own trail. It's fun, enjoy it. I suggest a hat and sunglasses, durable pants and shirt, because you WILL get hit by branches. Mid-june I was getting hit by mosquitos, and the pollen was in full season - my backpack came out yellow.

However note, there are 3 'summits' on Stams mtn, and the Freemont-Winema MVUM has the summit in the wrong spot. The activation zone for Stams is nearly a half mile wide going East-west, and covers all 3 summits. The three summits are within 10 vertical feet of each other, and don't dip below 50' between them.

There isn't much of a view at the NW summit. You get a few views of Diamond Peak heading back if you find a good clearing. The SW 'true' summit may do better for views. I was able to send text spots from the summit. 14 contacts (including 2 s2s) in half an hour and I was happy. The new battery pack worked gangbusters. Really, all I need to do is improve my logging with a reasonable portable computer of some kinda (that can send serial commands to the KX3 hopefully), and I'll be golden.


May 23, 2020: Horse Ridge, W7O/CE-176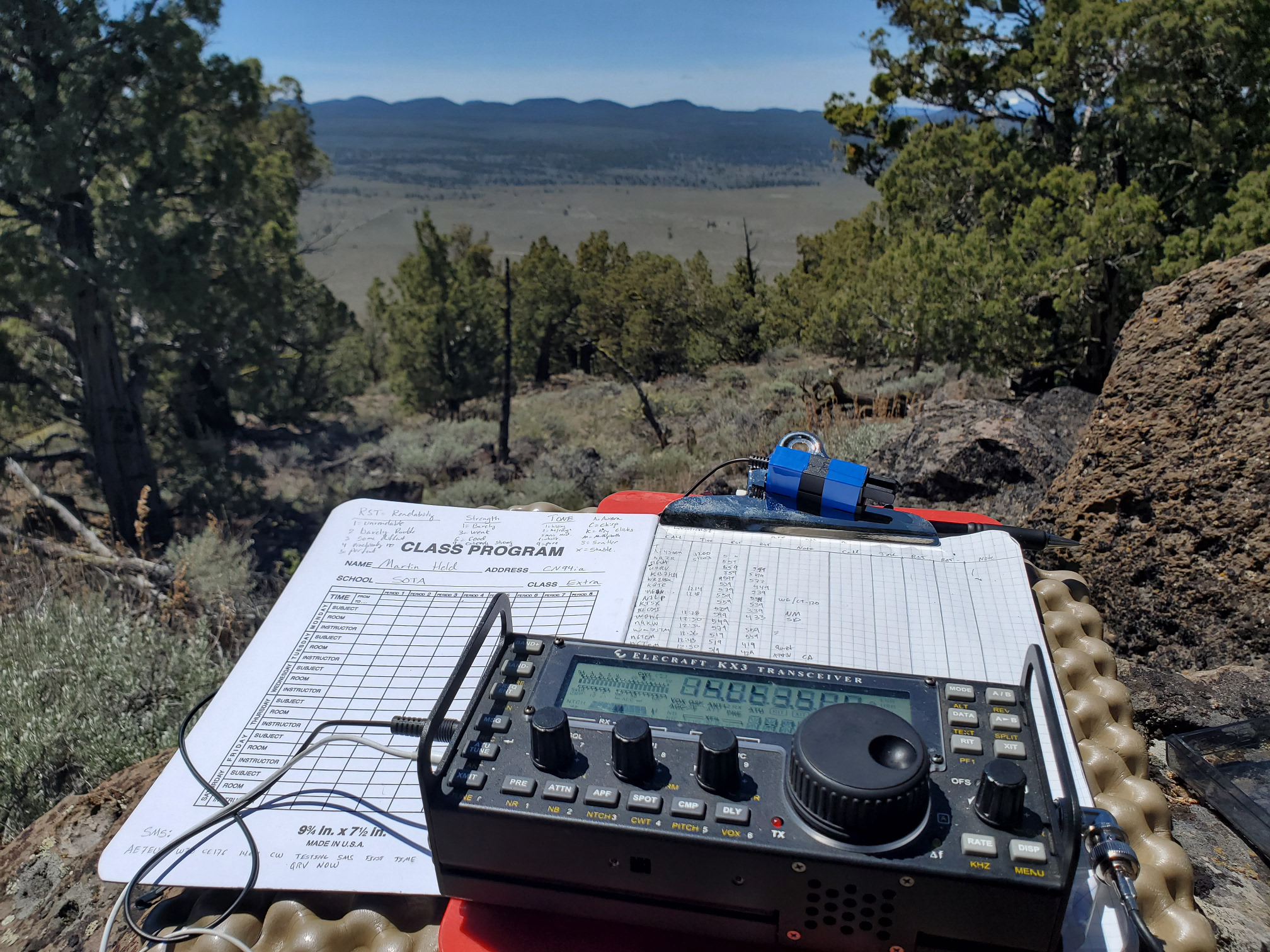 5/23/2020: W7O/CE-176 Horse Ridge

This was literally my first activation. I've been thinking about SOTA on and off for 7+ years now. Others posted a trip that they took to this same summit maybe 6 years ago, but I took a different route. Looking at the maps, and reading the rules, the route they took is along the OHV roads which are closed to vehicle traffic. The entirety of Horse Ridge is closed to motorized vehicle travel. Instead, I parked along the south edge of the Horse Ridge area along Ford road, along a spot where I could easily pull off and not be in the road itself.

The hike itself was a pretty straight forward cross-country trek, about 1.5 miles each way and about 850' elevation gain. There are a few barbed wire fences to cross, some down and historic, some more modern and maintained. None presented a real obstical though. Use of Avenza maps and the Horse Ridge Recreation map provided by the BLM is highly encouraged. The northbound OHV trail and BLM roads technically go through private property to my understanding, though the BLM might have right of way. The road going up into golden basin is technically off-limits to vehicles, though while I was at the summit, I still saw a motorcyclist. Otherwise, not a single person on the summit... Just the way I like it.



Horse Ridge Summit view



My trip up was basically a straight north ascent and then following the ridgeline WNW to the summit. There are a few false summits, take a GPS (or avenza maps) and you'll get there.

This weekend was near perfect weather. Not too cold, not too hot, a slight breeze to take the edge off the sweat of hiking after 2 months in quarantine.

My setup is a KX3 with a homemade 20m 2-radial vertical on a 25' fishing pole/mast. I will post a youtube video from the summit on this front, search my callsign on youtube, and you'll find my channel for an upload on that probably sometime next week.

In the end, 23 contacts, 1 summit-to-summit, and a great first time activation for me. I'm happy with how it went, and the worst thing I forgot was my hiking boots (so I just hiked in shoes instead, no big deal). I thank all those who tried to contact me, put up with newb CW skills, I will happily send QSL cards to all those who suffered through my lack of comprehension. Nearly all signals were strong and 5x9, (x variable by strength, my noise floor was near zero), so it wasn'propogation that made me ask for repeats, it was operator error :)

I got in the mail a new battery pack for my KX3 today, that I hope will be more consistent than using AA NiMH batteries in the KX3, but failing that, a single set of NiMH batteries did just fine.





Activations being considered
Current activations that I want to do. Not in specific order. Unless specified, all are W7O Oregon region.
(May 30 2020) CE-055 Stams Mtn
(June 6, 2020 - Double?!) CM-017 Hamner Butte
(June 6, 2020) CM-042 Ringo Butte
(June 2020) CE-058 Pine Mountain
(June 2020) CE-068 Pine Bench
CE-056 Antelope
CM-022 Maklaks (winter)
CM-046 Royce (winter)
CM-032 Odell (Winter)
CM-093 Ranger
CM-016 Devils Hill
CM-027 Cultus
CM-012 The Husband
CM-062 South Pyramid
CM-053 Echo Mountain
CM-009 Maiden Peak (Winter!)
CM-023 Redtop
CM-079 Two butte
CM-041 Proxy Point
CM-036 Substitute point
CE-053 China Hat
CE-260 6314
CE-039 Lookout Mountain
CE-184 Valpy Mtn
CE-182 Cadle Butte
CE-009 Paulina (Winter)
CE-014 North Paulina
CE-013 Slide Mountain
CE-096 Indian Butte
CE-103 Willow Butte
CE-032 Odell Butte
CE-066 Marmot Butte
CM-047/49 Packsaddle & Little Roundtop
CM-124 6242
CM-040 Horse
CM-030 Koosah
CM-020 The wife
CM-032 Millican Crater
CM-033 Black Butte
CM-039 Maxwell Butte
CM-058 Crescent Mtn
CM-082 Wildcat
WV-003 Bachelor
WV-005 Coffin
CM-044 Katsuk Butte
CM-043 Cupit Mary Mountain
CE-085 Pothole Butte
CE-188 Lava Butte (Winter)